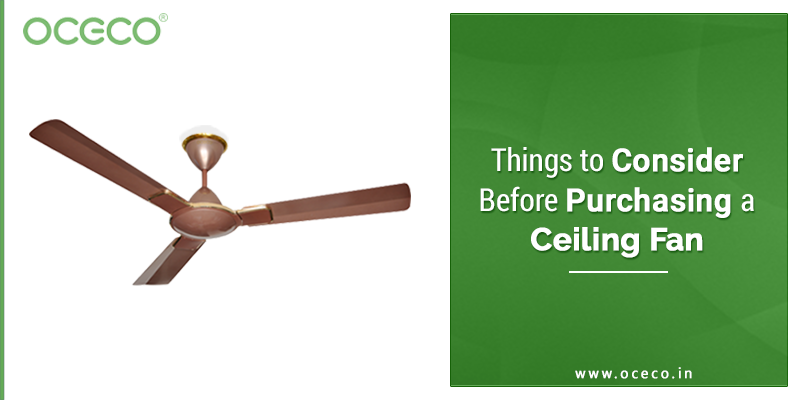 While purchasing a ceiling fan, we only consider the color, design and price of the ceiling fan, but there are more attributes one must pay attention to.
Some more parameters that need to be considered for better performance and energy efficiency of ceiling fan would be the technology of the fan, BEE star, air delivery, etc.
With a better understanding of the below parameters, you will be able to choose the best ceiling fan as per your requirement.
1. Sweep Size :
This specification is one of the most important things while choosing a ceiling fan for your room. Sweep is the length of one blade tip to other side blade tip. You can choose the sweep size of the fan for your room size by taking reference from the table given below.
| | | |
| --- | --- | --- |
| Room Size | Fan Sweep | Our Model |
| up to 75 sq. ft. | 900 MM | Smart J1 |
| up to 100 sq. ft. | 1200 MM | Smart E1, A1, R1 |
| Up to 400 sq. ft. | 1400 MM | Smart H1 |
2. Watt :
Watt is the unit of power. This parameter is assigned to all the electrical appliances. Higher the wattage in appliances, higher the electricity consumed. So before the purchase of any electrical appliance, you must choose the appliances which have a lower amount of watt.
3. Technology :
Most people are not aware of the revolutionary technology that was introduced in India 7 years ago. The name of this technology is BLDC Technology. Learn more about this technology through this link.
The wattage of different ceiling fan technologies is mentioned below:
| | |
| --- | --- |
| Technology | Watt |
| BLDC Technology Ceiling Fan | 32 W |
| 5 Star Ceiling Fan | 50 W |
| Ordinary Ceiling Fan | 75 W |
 You can see in the table that with use of BLDC technology in ceiling fans the wattage is much lesser than ordinary ceiling fans.
4. BEE Star :
It is very important to check the BEE star while purchasing a ceiling fan as it shows the electricity consumption rating. If BEE star is higher, it means the electricity consumption is lower.
So, try to purchase a ceiling fan with a higher BEE star.
5. Air Delivery :
Higher air delivery means better the flow of air in the room. So, you have to choose ceiling fans which have higher air delivery.
6. RPM :
RPM means Revolution per Minute. You have to choose a higher RPM ceiling fan with better air delivery. In some ceiling fans, the RPM is high, but the air delivery is not sufficient due to different blade angles.
7.  Motor Winding Material :
Copper winding is preferred for better performance of the motor. So, you can choose ceiling fans which come with copper winding and also try avoiding the purchase of fan with any other winding material like aluminum.
8. Ceiling Fan Controls :
In the current market of the ceiling fan, you may find ceiling fans that can be controlled with regulators, remote or smartphones. We have all these options in different models. You can choose according to your requirement.
9. Noise :
 It is a universal fact that not everyone like noise. Considering this fact, the BLDC fan is suitable for everyone. In BLDC fans, there is less noise as compared to ordinary fans.
10. Heating of motor :
If the motor temperature gets heated, then it will increase the temperature of your room space. So you should consider ceiling fans in which the motor does not get heated fast. In BLDC fans, the motor does not get heated fast, keeping the temperature of your room in control.
11. Maintenance :
In normal ceiling fans, issues start occurring after a certain period of time. For instance, you have to change capacitor from time to time, sometimes winding gets burnt so you have to get it fixed from your electrician. The speed of the fan also decreases after some time, causing noise. The fluctuation in voltage can also have an effect on the ceiling fan. By using brushless DC fans, you can eliminate all these problems.
12. After sales service :
Consider brands which provide better after-sales service and customer support. For instance, we make the necessary arrangements as soon as we get the complaint without causing inconvenience to our customer.
Here's a brief of the above mentioned factors that you need to consider while purchasing a ceiling fan.
| | | |
| --- | --- | --- |
| Specification | Normal Ceiling Fan | OCECO Bldc Ceiling Fan |
| Sweep | 900,1200,1400 | 900,1200,1400 |
| Watt | 75 W | 32 W |
| Technology | Induction | BLDC |
| BEE Star | 1 to 5 | More than 5 |
| Air Delivery | 220 CMM | 220 CMM |
| RPM | 350 | 350 |
| Motor Winding Material | Copper or Aluminum | Copper |
| Ceiling Fan Controls | Regulator | Regulator, Remote, Smart Phone |
| Noise | High | Low |
| Heating of motor | Yes | No |
| Maintenance | High | Low |