Welcome to
OCECO
BLDC Ceiling Fan Manufacturer
Trusted & Reliable -
OCECO BLDC ceiling Fan
We all know that if we save energy today then tomorrow energy will save us. Based on this concept we develop BLDC Fan which saves 65 % of electricity consumption in fans. We are a well-known
BLDC ceiling fan manufacturer in India
, with a wide range of models for home appliances, schools, hospitals, and industrial plants.
OCECO is one of the leading BLDC
ceiling fan manufacturer
in India having premium shades that are best suitable for your ceiling colors like Golden Ock Wood, Pearl White, Metallic Brown, Opel White, and Matt Black. In our manufacturing plant, we have precious equipment for testing fan quality so we can assure that the customer gets the best quality. Also, we provide 3 years warranty for customer satisfaction and trust in the oceco fan.
why
OCECO
Empowering Eco Solutions
OCECO redefines luxury with futuristic ceiling fan solutions where cutting-edge technology meets energy efficiency. We empower eco solutions with an optimized mix of advanced technology, extravagant luxury and rewarding savings.
With OCECO being an
energy saving fan manufacturer
, discover the benefits of OCECO's range of exclusive BLDC ceiling fans.
Energy Saving
Energy savings, more than 65% savings, lower electricity bill
Remote Control
Remote control, no regulator needed, saves space on switchboard
Inverter Friendly
Inverter/UPS friendly – Runs 3 Times longer, no extra noise, no speed drop
High Air Delivery
OCECO fans delivers more air than ordinary Fans
No Heat
BLDC Motor runs cool – No heat generated
Warranty
3 years Limited Warranty
Wattage
3 Watt Power Consumption at Low Speed
Speed
Advance Turbo Speed Mode
Smart Remote
You have the control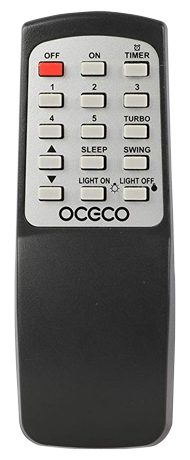 Fan Turn OFF
Fan Turn ON
Timer : To turn OFF fan automatically between 1 to 8 Hours
Turbo : For High Speed
Swing : To increase and decrease speed automatically for feel of natural breez
LED light Turn OFF
LED light Turn ON
Fine tune of speed
Fine tune of speed
Sleep : To reduce speed gradually for better comfort at night
Luxuriously and Sustainably Smart
Latest Ceiling Fan Range
Explore our range of BLDC ceiling fans that are high-end as well as energy efficient


Be Smart with OCECO
We are coming with new features to operate fan with app. It's a very smartly features to operate Fan with App for that you must have IR enabled android phone.
To operate OCECO Fan with app, download apk file in your android mobile and Install apk in mobile. App work like Oceco remote, keys while pointing remote towards the indicator on the fan.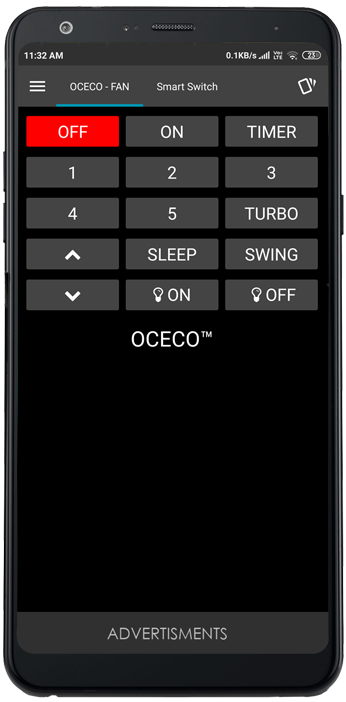 Energy Calculator
Calculate Your Savings
Happy Savings that Comes in your Comfort Zone
Ordinary Fan

OCECO Fan

You Save (Yearly)
With the help of BLDC fan manufacturer- OCECO, we have installed BLDC fans at our corporate office was a great deal for us in terms of sophistication as well as long-term energy savings. Keep up the good work of energy saving fan manufacturing.

We have sourced elegant and smart BLDC fans from OCECO for our home. After the installation of these fans at our home, we have noticed a great cut in our electricity bills. Plus, my family is loving the remote control feature that adds to the luxury. Thanks to OCECO the ceiling fan manufacturers who have helped us selecting the best suitable fans.

OCECO BLDC Fan is my third purchase after atomberg gorilla fan & super fan, compare to this brands oceco fan has more features like I can set speed between 1 & 2(1, 1.15, 1.30, 1.45, 2), also there are swing mode & led lights. OCECO has proved to be the best BLDC ceiling fan manufacturer.
All About Innovation
Latest Blogs
Learn about the latest innovations in eco solutions, green energy initiatives, advantages of energy efficient technology, and steps towards sumptuous but sustainable living