Leading Manufacturer of
BLDC Ceiling Fans
Our Smart, Sustainable, and Sumptuous
Range of Ceiling Fans that Makes a Great Difference
OCECO is a leading manufacturer of ceiling fans that develops an exclusive range of fans powered by the cutting-edge BLDC technology. Our range of BLDC ceiling fans portrays an ideal mix of the latest technology and great energy savings. We manufacture energy-saving fan that helps you save up to 65% in the electricity bill as compared to the conventional fan. Get your hands on our range of BLDC ceiling fans that are smart, support sustainability and give great energy savings right at your comfort level.
The popularity of OCECO's BLDC fans can be justified with the fact that it comes with loads of benefits – Great energy efficiency (up to 65% electricity savings), helps with longer inverter backup, less heat but higher efficiency, and 3 years of warranty. Moreover, our exclusive range of fans Smart E1, Smart H1, and Smart J1 comes with remote control for extra convenience. OCECO's BLDC ceiling fans come with different specifications and features to suit your unique preferences and we offer the most competitive and reasonable BLDC fan price, marking an edge above the rest.

Smart Remote
You have the control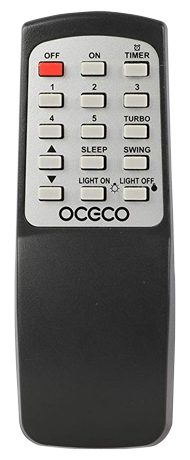 Fan Turn OFF
Fan Turn ON
Timer : To turn OFF fan automatically between 1 to 8 Hours
Turbo : For High Speed
Swing : To increase and decrease speed automatically for feel of natural breez
LED light Turn OFF
LED light Turn ON
Fine tune of speed
Fine tune of speed
Sleep : To reduce speed gradually for better comfort at night
Why Choose Energy Efficient Ceiling Fans?
OCECO BLDC Ceiling Fans 
Advanced Features at a Moderate Price
Saves upto 60% energy.
Super energy efficient BLDC Motor
Remote control, no regulator needed, saves space on switchboard
LED blinking for Speed indication and Night lamp
Higher Air Delivery
Highest service value more than 6.5(air delivery/watt)
Runs 3 times longer on inverter resulting longer battery life
No humming noise
Power factor better than 0.95
BLDC Motor runs cool – No heat generated
Consistent performance even at low WATTAGE and power fluctuation
Smart algorithms implemented to precisely tune the motor in real time.
3 years of limited warranty
ROHS electronics
World-class ball bearings
Recyclable card board box
Parts from reputed sources
Powder coated Aluminium die cast body & leaves – no rust
Unique Premium design
Why should you buy OCECO fan?
---
ENERGY SAVING : Energy savings, more than 60% savings, lower electricity bill
REMOTE CONTROL : Remote control, no regulator needed, saves space on switchboard
INVERTER FRIENDLY : Inverter/UPS friendly – Runs twice longer, no extra noise, no speed drop
HIGH AIR DELIVERY : Oceco fans delivers more air than ordinary Fans
NO HEAT : BLDC Motor runs cool – No heat generated
WARRANTY : 3 years Limited Warranty
Description
Unit
Ordinary Fan
OCECO Fan
Number of fans installed
Nos.
5
5
Running hours in a day
Hrs.
10
20
10
20
Energy consumption in unit
@max speed per day
75W
3.75
7.5
32W
1.6
3.2
Energy consumption in unit
@medium speed per day
39W
1.95
3.9
12W
0.6
1.2
Tarrif/Unit of Electricity
(Rs.)
7
Electricity charges per year
@max speed
(Rs.)
9581
19162
4088
8176
Electricity charges per year
@medium speed
(Rs.)
4982
9964
1533
3066
Energy saving per year
Difference @max speed
Hrs.
10
20
(Rs.)
5493
10986
Installing BLDC fans at our corporate office was a great deal for us in terms of sophistication as well as long-term energy savings. Keep up the good work of energy saving fan manufacturing.

We have sourced elegant and smart BLDC fans from OCECO for our home. After the installation of these fans at our home, we have noticed a great cut in our electricity bills. Plus, my family is loving the remote control feature that adds to the luxury.