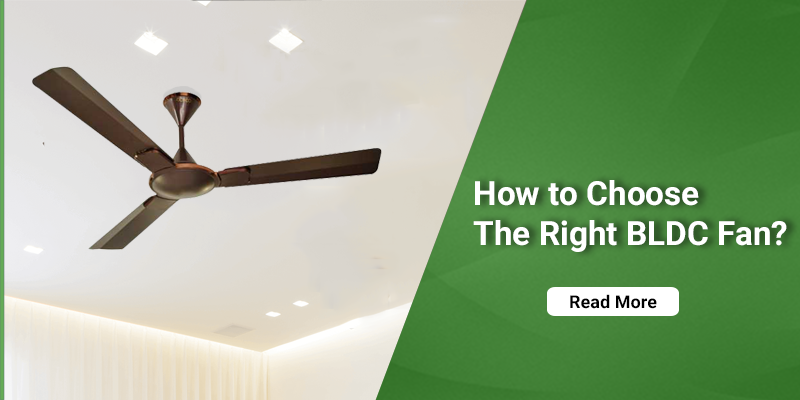 Whether you have bought a new house, a new office or renovated one recently, you would want the best of furniture and electrical as well as electronic appliances for the space that matters to you. As easy as it may seem, buying a ceiling fan can also get quite confusing. Here are few pointers you might want to keep in mind while buying one.
1. Size of the Room
Do you want to buy a ceiling fan for your living room or bedroom? What is the size of the room? Do you want to buy it for your home, shop or medical facility? These considerations will help you determine the size and capacity of the fan you need. Buying a fan of low capacity for a spacious room is bound to leave you and your guests sweat all the time in the scorching heat.
2. Interior & Aesthetics of the Place
Keeping in mind the interior and aesthetics of the place is quite important. By choosing a cheap looking fan of an odd colour will look like a bad patch in the space you bought it for. It is a good idea to consult your interior decorator to determine fan of which colour and style will be apt for the place.
3. Style: BLDC Vs Ordinary
This one really is a no-brainer. Are you still using an old styled keypad phone? Apparently you are not! Your newly bought or renovated home/work-place doesn't deserve an archaic ceiling fan either. A BLDC fan must be your best pick as it is not only energy efficient and saves energy upto 60 percent, but is also smart and can be operated by a smart-phone. You don't need a regulator to operate these fans. Isn't that stylish as well as convenient?
Check here –Why Should You Choose BLDC Ceiling Fans over Ordinary Ones?
4. Budget
Budget is another important point to keep in mind while choosing a ceiling fan. Good news is that BLDC fans are not only smart, stylish and energy efficient, but are cost effective as well.
5. Warranty
Warranty and post sales service is a crucial point to keep in mind while purchasing any product and a BLDC fan is no exception either. It is recommended to buy one from a reputed BLDC ceiling fan manufacturer such as OCECO. OCECO offers a 3 years warranty on BLDC fans. We are known for manufacturing durable, energy efficient and smart BLDC fans plus excellent post sales service.